Flea & Tick Lawn Control Treatments in Binghamton NY
Don't Just Treat Your Animals – Kill Ticks and Fleas at the Source!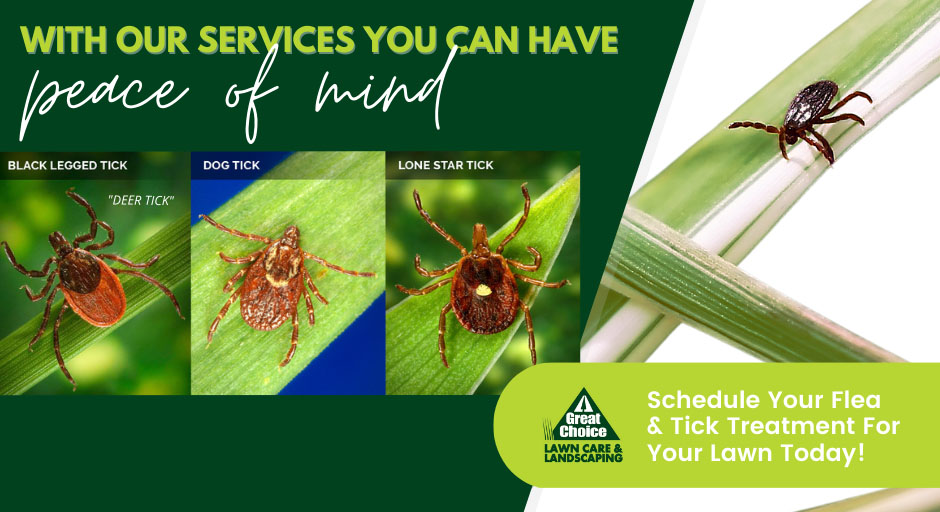 Most recent studies by the NYS dept of health have found that 66.7% of the deer ticks in Broome county and 46% of the ticks tested in Tompkins county carry Lyme disease.
We know you love your yard just as much as we do. Our beautiful Upstate NY spring, summer, and fall weather makes for great backyard Barbeques, a great place for whiffle ball with the kids and backyard fires on those cool fall nights when the leaves start to change. What's the only thing that can ruin this experience for you, your family, and your pets? Flea's and Tick's.
Experts Are Predicting Our Mild Winter Will Makes this a Scary Year for Ticks
A new report has found that Lyme's disease carrying ticks are now in half of all U.S. counties, making it the most commonly reported vector-borne disease in North America. Unfortunately, the Binghamton, NY and Ithaca, NY regions have become a hotbed for tick activity and the mild winter we experienced this year is estimated to double the amount of reported tick bites.
Below are Some Facts of Lyme's Disease:
300,000 cases of Lyme disease are reported each year. 10x more Americans than previously reported
Fewer than 50% of patients with Lyme disease recall a tick bite
40% of Lyme patients end up with long term health problems
How we Kill Ticks and Fleas at Their Source to Protect Your Family
At A Great Choice Lawn Care & Landscaping, we're offering an effective lawn treatment service to kill fleas and ticks at their source and keep your family safe. In treating a tick infestation, treatment time is critical as fleas and ticks are most abundant from June to August when people are frequently outdoors enjoying their yards. If ticks have already been found on your property, it is best to treat your entire yard to knock down the infestation and follow up with our treatment schedule to prevent reinfestation.
How Does Our Flea & Tick Lawn Treatment Work?
The best way to get started is to request a free quote on this page. This will get you connected with our in-house flea and tick expert to assess your lawn and your outdoor living area to create a plan of action.
Once you've signed up for our yearly flea and tick control service, our technician will schedule our first visit to your property and perform the initial lawn application to protect your yard, family, and pets against these dangerous parasites.
We'll re-visit your property over the course of the spring, summer, and fall season to ensure your yard is fully protected and safe. While we can perform our flea and tick lawn control application on its own, the majority of our customers choose to pair this treatment with our lawn fertilization service to give them a full and beautiful lawn while keeping it protected from fleas and ticks.
Our experienced application technicians will take great care in the key areas of your yard where ticks and fleas are likely to infiltrate. These include the edges of forested areas along your property line, at the edge of grass fields, and around structures in your yard such as pathways, patios, kennels, sidewalks, and more. It is along these structural features where vegetation tends to become overgrown, a happy hiding spot for an awaiting flea or tick.
A Safe, Fast and Effective Solution
Our treatment requires 4-5 applications and results are nearly instant. All products used by our licensed professionals are rigorously reviewed and approved for use by the Environmental Protection Agency (EPA).
Warning Signs of a Low-Quality Flea & Tick Control Provider
With so many lawn companies out there, how do you pick a pro you can trust for flea and tick lawn treatments? Avoid these red flags to ensure high-quality service:
✘ Routine "one and done" spring applications only
✘ Little to no monitoring between treatments
✘ Failure to tailor service for your property's specific needs
✘ Carpet bombing lawn with same insecticide monthly
✘ Using homeowner-grade rather than commercial products
✘ Sloppy spraying technique leaving skipped spots
Look for a long-standing local company with technical expertise in pest control. Review licenses, training credentials, and insurance documentation. Customer reviews and before/after photos also reveal a lot about service quality. Investing in a top-notch provider is key to getting your yard back from these seasonal pests.
Schedule Your Flea & Tick Treatment For Your Lawn Today
Fill out the form on this page or call (607) 729-3451 for an estimate on keeping your lawn a safe haven for your family to enjoy the beautiful Upstate NY weather this season.
GET A FREE

ESTIMATE
Fill out the short form below for a FREE routine maintenance estimate or landscaping project estimate.
---
Your e-mail will never be spammed or shared with 3rd parties.