---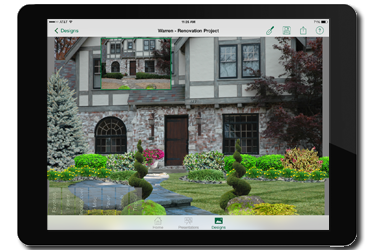 NEW!
A Great Choice Lawn Care & Landscaping has partnered with PRO Landscape Software to allow you to visualize your new outdoor oasis before you commit! We can show you what your new landscape will look like throughout the seasons, choose different plant options in seconds, and even show what your landscape lighting options will look like lit up at night. This preview is complimentary with your FREE landscaping estimate.
---
Did you know appraisers across the country believe that your landscape can add up to twenty percent to the value of your home?!
What does Landscaping Mean to You?
The loose term of "landscaping" encompasses many different things. While many associate the term with the simple act of planting flowers and creating a healthy, green lawn, it actually means so much more. Landscaping is the art of creating a perfect yard. It's the art of adding aesthetically pleasing features to your yard, removing those that are not wanted and turning something that is not your taste or up to your standards into something remarkable and worthy of a second look. Landscaping is one of the most important considerations when it comes to any home. Whether it is sitting on your outdoor patio in Binghamton watching the kids play, or watching the boats sail by in your beautifully landscaped back yard in Ithaca, a well landscaped outdoor living area can make the perfect place to end your day.

What makes landscaping so important is first impression. A person will judge and make an assessment in less than five seconds of meeting someone or seeing something for the first time, and that opinion is often difficult to change once made. Your yard is the first thing anyone sees when they come to your home. An unattractive, unkempt home with no landscaping – or poor landscaping – will leave others with a bad taste in their mouths.
Great Landscaping Leads to a Direct Increase in Home Value
Additionally, your home might one day be on the market. For now it's your dream home, but a big life event such as an unexpected job opportunity can quickly change things. If ever you find yourself looking to sell, your yard is going to be one of the first things people notice. Many beautiful homes with a load of potential miss out on possible buyers based on unattractive landscaping, which leads buyers to other homes. Not only is it ugly, it turns buyers off because they don't really want to have to figure out how to handle the landscaping in any one yard.
What matters most, however, is how you feel about your home. Pulling into the drive at the end of the day should be something you love to do. It should be something that makes you happy; something that makes you feel good about your house. It should be an act that leaves you feeling good about yourself. Your yard should be the type of place in which you want to spend time; a place you want to enjoy and relax. Your yard should be beautiful, elegant and comfortable. Your yard should have the right landscaping.
How We Turn Your Landscape Dreams into a Reality
Our new installation landscaping service is catered around you the customer. We will meet you at your proposed job site and truly try to give you exactly what you want. It is essential that there be interaction with us during the design phase. While we will provide you with the quality products, install them safety and efficiently with respect for your property, and basically act as if this project was our home, this landscape is at your home and you need to love the job we have done for you. We've helped both residents and businesses in the greater Binghamton region and in greater Ithaca create the outdoor dream space that they love coming home to each evening.
Watch How we're able to Transform Your Outdoor Space
Types of Landscape Installations
Our Process
We always ask if there is a particular plant or color of flower you'd like incorporated. By obtaining a sample or photo of the plants, we will make sure we understand your requests and fulfill them to the best of our abilities as we realize your landscape tells a great deal about who you are.
The Consultation

We meet to discuss your options, likes, dislikes and personal preferences. From there we can start creating the plan for the end result you are looking for.

Pre-Approval

We will present you with a project plan with plant materials, samples, pictures and depending on the size of the project, formal or informal design drawings.

The Build

Once approved, we will schedule your project and make all the necessary preparations prior to showing up on the start date. Upon receipt of all required materials we will be on site and work until the project is completed. During the build, if the customer is available, we will solicit your input throughout the project as checking points for all involved.

Final Approval

After the installation is complete we spend the time to walk the entire job with you and make sure you are happy. At this time we also provide instructions on how to best care for your new landscape investment

Follow Up

If at any time you have a question or something doesn't seem quite right, we encourage you to call us so we can work together to remedy the situation.
Binghamton & Ithaca's Choice for Quality Landscaping
We are proud that many of our "New Installation" accounts ask us to stay on and provide maintenance services, mowing, lawn care fertilization, and a tree and shrub program. We enjoy facilitating the growth and maturation of new plantings and welcome the opportunity to provide these services to you. If you are a Binghamton NY or Ithaca NY resident or business and you want to transform your landscaping ideas into a reality, fill out the form on this page or call us today for a FREE estimate.
GET A FREE

ESTIMATE
Fill out the short form below for a FREE routine maintenance estimate or landscaping project estimate.
---
Your e-mail will never be spammed or shared with 3rd parties.